We're more conscious of our appearance than ever – that's why, when it comes to correcting sagging eyelid skin, many patients tend to ask if they should combine a brow lift with an eyelid lift.
It's a good question; one that can lead to significant positive results for patients who may need a little more than an eyelid lift. But what are the signs you should get a brow lift with your eyelid lift? And what exactly are the benefits of combining the two procedures?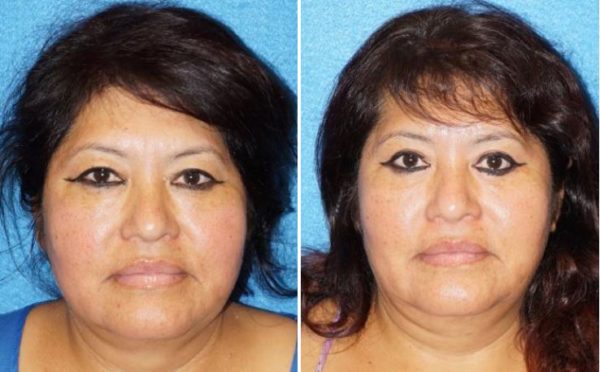 3 Signs You Should Combine Your Brow Lift with an Eyelid Lift
While every patient is different, the most common signs you should combine the brow lift and eyelid lift procedures are:
You have a lot of sagging skin along your upper eyelids, to the point where it's potentially interfering with your vision.

You constantly look like you're frowning or tired, even when you've had your eight hours of sleep.

In addition to sagging skin, you have wrinkles and folds along your upper eyelid and brows that just won't respond to over-the-counter treatments or even fillers.
If the above signs sound familiar to you, it may be a good idea to combine your brow lift with an eyelid lift. Note: If excessive skin is interfering with your vision, your health insurance may cover some or all the costs associated with your procedure.
The Benefits of Combining a Brow Lift with an Eyelid Lift
For many patients, one of the biggest benefits of combining a brow lift with an eyelid lift is that they're able to experience truly life-changing results. Patients can expect to see younger, brighter-looking eyes, with fewer frown lines, wrinkles, and other obvious signs of aging. Some patients have also pointed out that combining the procedures helps them to appear friendlier, especially when severe frown lines and brow furrows are minimized.
Another benefit to combining the procedures is that patients don't have to undergo two separate surgeries to achieve their ideal results – they can have both done within the span of an afternoon. This is great news for patients who have packed schedules that may not accommodate multiple surgeries.
Dr. Rudy Coscia treated me for wounds from an injury. Because of his excellent care I opted for a facelift and eye lid lift. Dr. Coscia is not only technically excellent but a real pleasure to interact with. I am very pleased with my natural looking results.
Take the Next Step
Want to learn if you're a good candidate for a combined brow lift and eyelid lift? Schedule a consultation with board-certified plastic surgeon Dr. Rudy Coscia at his new plastic surgery practice in Granite Bay, CA.