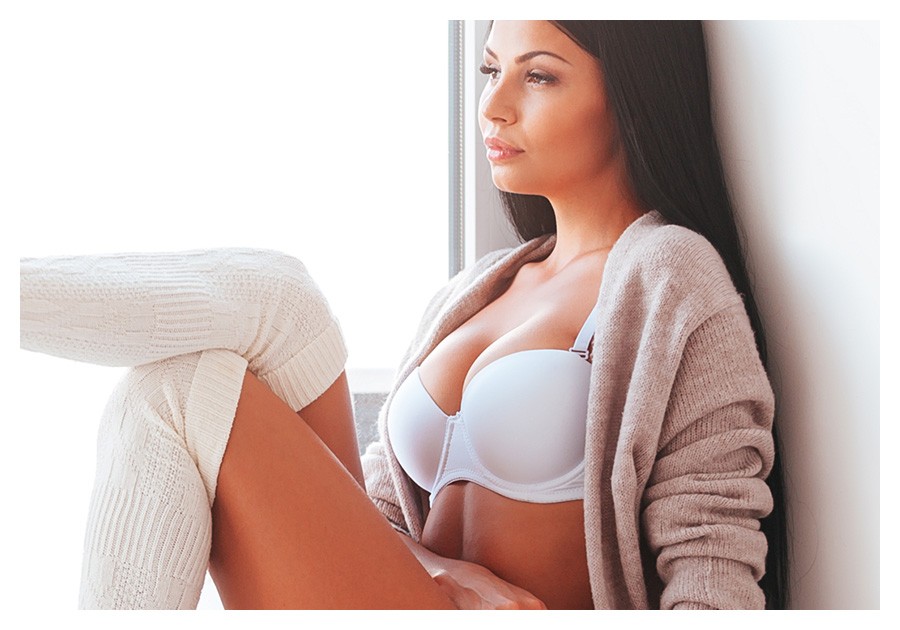 Breast
Lift
Sacramento, Granite Bay, & Coeur d'Alene
The breast lift procedure, formally known as a "mastopexy," is simply designed to lift the breast. Several factors influence a gradual drooping of the breast. As you age, the skin throughout the body loses a degree of elasticity, decreasing the skin's ability to return to normal shape. The typical changes that occur with pregnancy and breastfeeding stretch the breast skin, leaving the breasts expanded and at a lower position.
After breastfeeding, asymmetrical breasts also bother many women. Patients who have lost significant weight also are faced with the problem of looser breast tissue. This breast droop that develops is referred to as "breast ptosis." Therefore, the goal of a breast lift is to get rid of excess breast skin and reposition the breasts in a more superior and ideal position, restoring the natural shape and positioning of the breasts.
Home » Breast Lift
Techniques Involved in a Breast Lift
The breast lift procedure itself will elevate the breasts, reshape them, and improve the symmetry between them. There are a few different breast lift techniques based on the incision patterns. During your consultation with Dr. Coscia, he will perform a physical exam with measurements of your breasts that will help guide the decision for the type of breast lift used. The benefits of each technique will be discussed thoroughly.
Vertical or "Lollipop" Lift
A vertical or "lollipop" lift corrects moderate breast sagging through a circular incision around the edge of the areola and an additional incision running vertically from the bottom of the areola to the breast crease.
Wise Pattern or "Anchor" Lift
A Wise pattern or "anchor" lift corrects extensive breast sagging through three incisions: a circular incision around the edge of the areola, a vertical incision from the bottom of the areola to the breast crease and a horizontal incision along the breast crease.
Breast Lift with Augmentation
Some women desire added fullness in conjunction with a lift. The combination procedure to lift the breasts and add implants is referred to as a "mastopexy augmentation." For these patients, a breast lift is performed at the same time as breast augmentation with the insertion of implants. This is a great procedure to gain both improved breast shape and positioning and increase fullness to the upper border of the breast.
What Type of Anesthesia is Used for this Procedure?
Frequently, general anesthesia is utilized with the assistance of a board certified anesthesiologist. However, it is also possible to have this procedure performed under IV sedation with the injection of local anesthetic. During your consultation with Dr. Coscia, you will discuss these options and determine what is optimal in your case.
Breast Lift Recovery
After surgery, you will be sent home in a surgical bra to wear for approximately six weeks. This allows appropriate healing of your breasts during the initial healing phase. Most patients return the day after surgery for initial evaluation and further instructions followed by additional visits throughout your recovery period. Typically, a week off from work is all that is needed. Dr. Coscia will also discuss various postoperative activity restrictions in order to protect the breasts during the initial healing phase.
Complementary Procedures with Breast Lift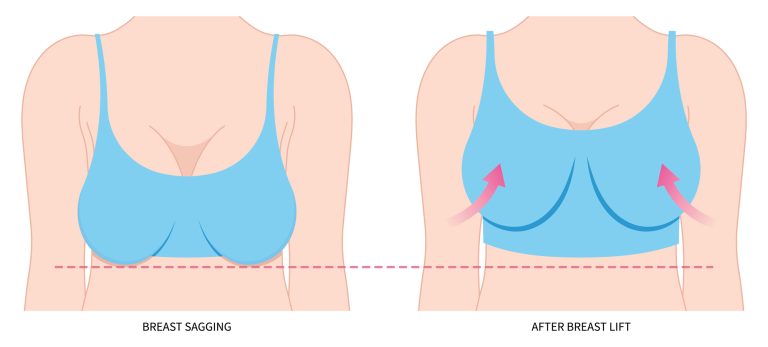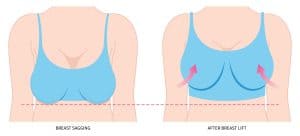 Breast lift addresses loose, sagging breasts but won't restore lost volume or increase breast size. Breast augmentation with breast implants or fat transfer can enhance the breasts, especially for women with deflated breasts after pregnancy, breastfeeding, or natural aging. Breast lift is often combined with breast augmentation to address both concerns simultaneously.
Many women have multiple problem areas on their face and body. Combining breast lift with a body or face procedure can help you achieve several cosmetic goals with a single surgery. Liposuction, tummy tuck, arm lift, thigh lift, and Brazilian butt lift can be paired with your breast lift procedure. Facial plastic surgery, such as facelift or eyelid surgery, can combat the changes from natural aging or those persistent under-eye bags and dark circles leftover from sleepless nights with children.
What Dr. Rudy Coscia's Patients Have to Say About Breast Lift
"Dr. Coscia is an absolute perfectionist, with 100% attention to detail. He's not only kind and honest, he genuinely respects his patients. IMO [In my opinion], he's the BEST plastic surgeon in Sacramento. As a nurse with incredibly high standards, he's my #1 choice." – Sharlotte Birkland, Google Review
"Dr. Coscia is the best! He is fabulous! His pre-op visit and information is comprehensive and thorough. The journey was exactly as he said it would be. His technique [is] flawless. My results [are] phenomenal! I give him 5/5 stars in every way!" — Dawn Veltre, Google Review
"I did some research before I picked my surgeon and was very impressed with Dr. Coscia. I had my mommy makeover 6 months, and I'm thrilled with the results. I had a tummy tuck and breast lift and am amazed every day with how I look. My breasts turned out perfectly even, which is hard to do when you don't get implants. You can see the muscles in my stomach for the first time in my 50 years. I've given birth to 5 kids, including a set of twins, and feel better than I have in 25 years. I highly recommend Dr. Coscia. He is amazing!!" — Catherine, Google Review
Breast Lift FAQ
Will there be scarring?
The amount of scarring depends on the incision technique used. Dr. Coscia will recommend the breast lift approach that is most likely to give you the best results with the least amount of scarring possible. He can also provide recommendations for scar management products or techniques to help scars fade as much as possible after surgery.
Are there breast lift financing options?
Yes, breast lift with Dr. Coscia can be financed through CareCredit or M-Lend Financial Services.
Are results permanent? How long do they last?
Breast lift "resets the clock" on sagging, but it does not prevent the breasts from undergoing natural age-related changes after the procedure. Your breasts will continue to age and eventually sag, but they should not look noticeably saggy for many years. Having children or fluctuating significantly in weight could accelerate sagging after breast lift.
Do I need to wait until after I have kids to have a breast lift?
For the best and most lasting results, it is wise to postpone breast lift until you are finished having biological children. It is also wise to wait until you are at your target weight and do not plan to gain or lose a substantial amount of weight (i.e., more than 10 pounds or so) after surgery.
Will the procedure make my breasts smaller?
Breast lift won't significantly change the size of your breasts (only their position). If you desire smaller and perkier breasts, you should explore the option of a breast reduction.
Does a breast lift reduce areola size?
Yes, breast lift can reduce oversized or stretched-out areolas if you desire.
How do I prepare for a breast lift?
To prepare for breast lift, you should stop taking certain medications that can increase the risks of surgery. And if you smoke, you must quit several weeks before surgery. You may be asked to undergo a mammogram or a medical exam to get a clean bill of health.
How do I ensure the best results?
To increase the likelihood that you are happy with your results, you should select a qualified, experienced plastic surgeon to perform the operation. You should clearly communicate your desired results to the surgeon and make sure you have a clear understanding of what to expect and what you can do to ensure you heal properly from the operation.
Can I breastfeed after breast lift?
Breastfeeding will still be an option for you after mastopexy, but your milk supply and flow may not be the same as before breast surgery. Mastopexy typically leaves the inner breast structures and mammary glands intact, but the ability to breastfeed after breast lift depends on the surgical technique and other factors. Discuss your concerns with Dr. Coscia during your consultation if you plan to have children after breast lift.
Will my nipples lose sensation after breast lift?
Loss of nipple sensation or permanent changes in feeling are more common after breast augmentation. There is minimal risk of losing nipple sensation after breast lift. However, the lower portion of the breast and nipples may lose feeling while the tissues heal, but typically comes back within a few weeks or months of the procedure. While there is a slight chance you could lose nipple or breast sensation permanently, erotic feeling typically remains intact.
Can breast lift address uneven breasts?
Breast lift may improve asymmetrical breasts if the breasts have drooped unevenly or if you wish to reduce the size of the larger breast. Our board-certified plastic surgeon can remove some of the breast tissue at the same time as the lift procedure to improve symmetry. However, if you'd like to increase the size of the smaller breast, breast implants with breast augmentation are often the best approach to achieve even breasts.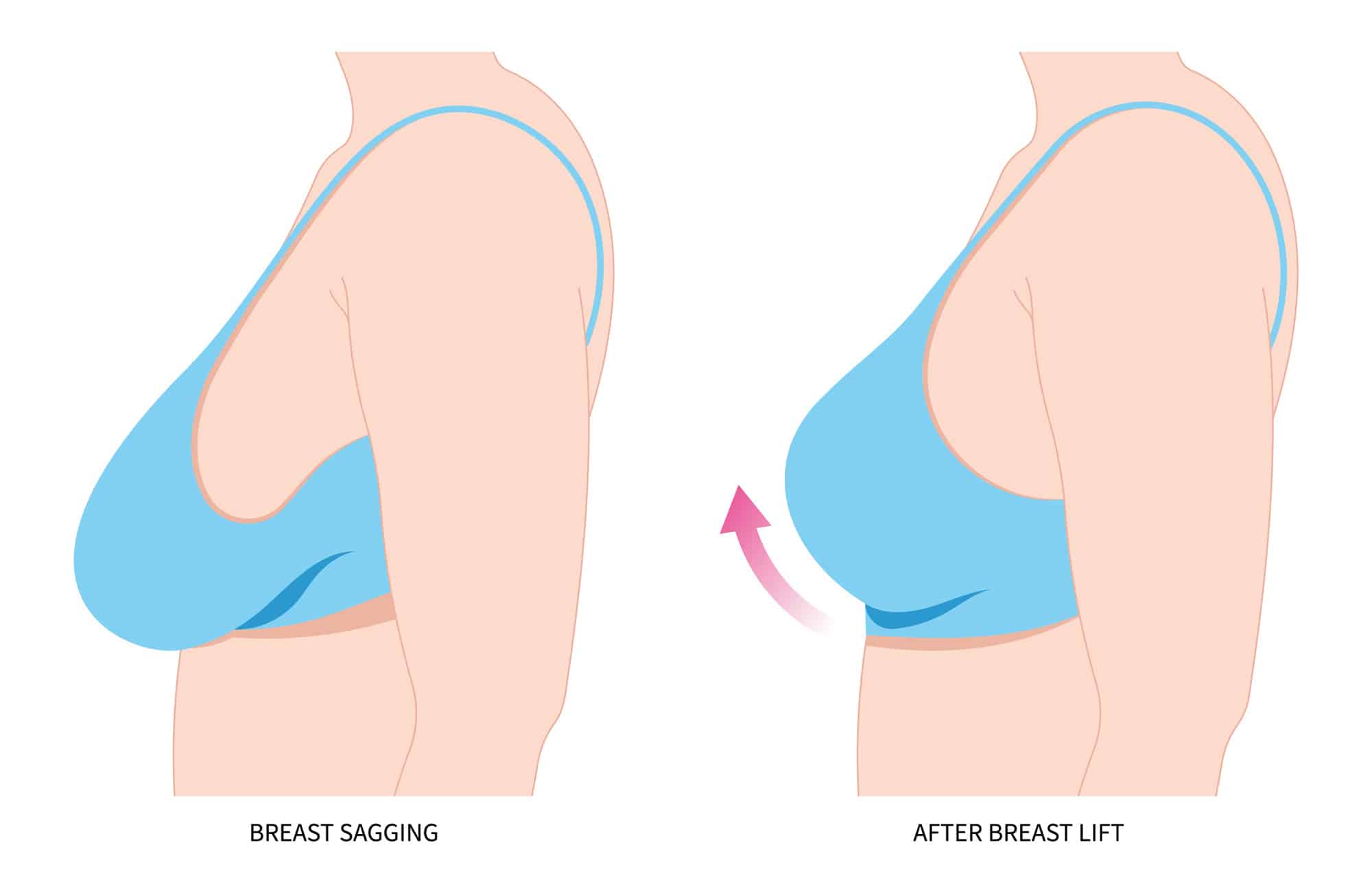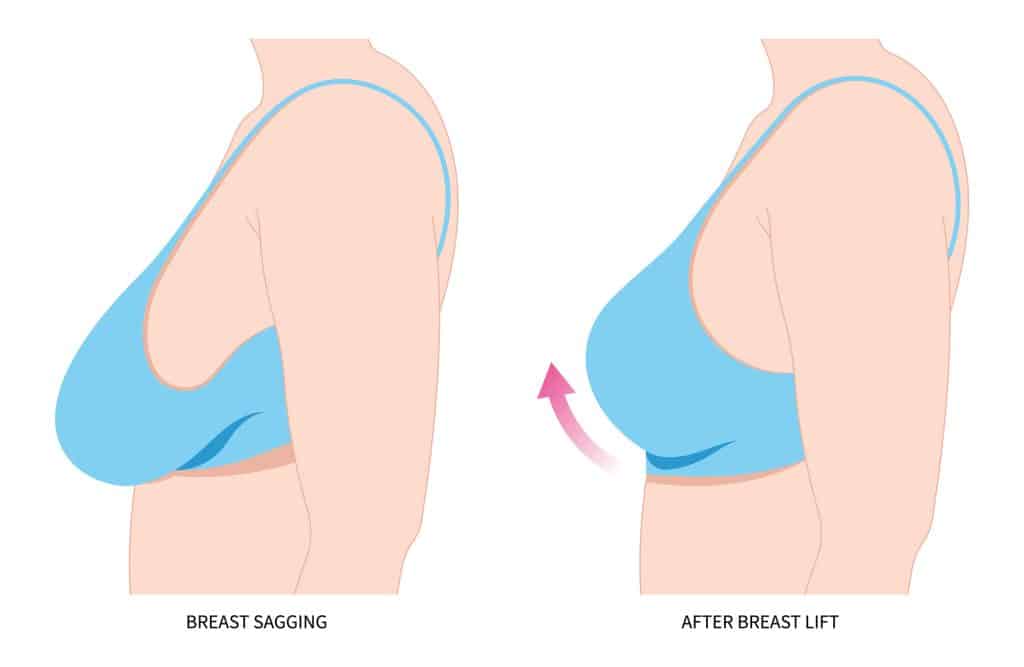 Will breast reshaping affect the accuracy of a mammogram?
The imaging results of a mammogram will look different after breast lift because of the tissue changes, but it will not make it more difficult to visualize or detect breast cancer. If you have regular mammograms, comparing your previous results to new images after breast lift may be less helpful because the breast tissue has been adjusted since your last test. Your doctor may recommend a mammogram six months after mastopexy to have a new baseline image to compare with future tests.
Women should have annual mammograms starting at age 40, or 35 if they have a family history of breast cancer.
Will I need another breast lift later in life?
Breast lift removes excess skin and reshapes drooping breasts but cannot stop natural aging. Your skin and tissues will continue to thin and change as you get older. Breast lift results are long-lasting, and your breasts should appear more youthful and elevated than your peers'. However, you can expect mild to moderate sagging with age or weight loss. A second breast lift is an option for women who wish to renew their breasts again in the future.
MASTOPEXY AUGMENTATION WITH DR. COSCIA
Learn More About Breast Lift
If you are considering a breast lift and want to discuss whether implants alone, a breast lift, or a combination of the procedures is needed to achieve your desired result, please call and set up a consultation with Dr. Coscia at your convenience.
Dr. Coscia's practices also serve Coeur d'Alene, ID, and the Rocklin and Loomis areas. Please fill out the form on this page to request a consultation or call our call his Granite Bay 916-773-5559 or Sacramento 916-929-1833 locations to request a consultation today.
*Individual results may vary