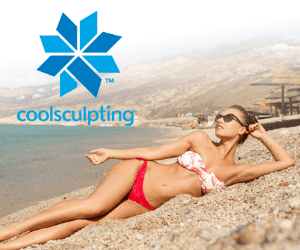 For some people, following a healthy diet and exercise plan isn't enough to get rid of stubborn fat bulges.  That's why CoolSculping is such an exciting new procedure – and it's now available at The Plastic Surgery Center in Granite Bay/Roseville, CA.
What is CoolSculpting Treatment?
*CoolSculpting is the only FDA-approved, non-invasive fat reduction treatment that uses the power of cooling to target and get rid of fat cells.  When CoolSculpting devices are applied to the treatment area, the cooling energy penetrates the skin and breaks down fat cells, while keeping surrounding healthy tissue intact.  Over time, the body's metabolic processes remove these cells, resulting in a fat cell reduction of up to 25%.
What Body Areas Can be Treated?
CoolSculpting is a fast, non-invasive treatment that takes less than an hour per area to treat.  Multiple body areas can be targeted in one treatment session.  Common treatment areas include the stomach, waistline, thighs, and buttocks.  The CoolSculpting Mini device can be used to target smaller treatment areas, including underneath the chin and around the armpit.
CoolSculpting Recovery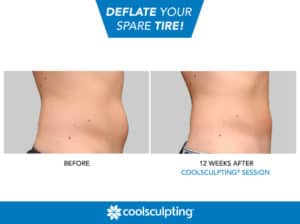 There's no downtime associated with the treatment, making it a perfect option for busy clients.  Common side effects include tingling and slight bruising.
CoolSculpting is a everlasting solution to stubborn fat reduction.  Ideal candidates should already be following a healthy diet and exercise regimen, as it does not prevent against the formation of new fat cells.
How to Schedule a CoolSculpting Treatment
To learn more about CoolSculpting, schedule a consultation with board-certified plastic surgeon Dr. Rudy Coscia at The Plastic Surgery Center today!  Call Dr. Rudy Coscia today at his Sacramento 916-929-1833 & Granite Bay 916-773-5559 to learn more!
*Individual results may vary