Also Offering Body Contouring in Granite Bay & Roseville
---
Liposuction has impacted body contouring over the last few decades and affects the way body contouring procedures are approached.  Liposuction has made cosmetic surgery acceptable to many patients who are concerned with the potential for unsightly scars.  Liposuction is best thought of as a contouring procedure to remove excess fat deposits from specific areas of the body.  Typical areas that can be addressed include the abdomen, flanks, thighs, waist, knees, arms, hips, and under the chin/neck region.  A healthy diet and exercise program may still leave stubborn fat deposits in certain areas.  These deposits may be genetic and difficult to remove with diet and exercise alone.  Therefore, liposuction is great in dealing with these hard-to-change areas.
*While the procedure removes fat cells from the treated area, it is still important to maintain a good diet and exercise to ensure lasting results.  Areas treated by liposuction will always be more difficult to accumulate gained weight/fat than prior to surgery, but that doesn't mean the results last forever.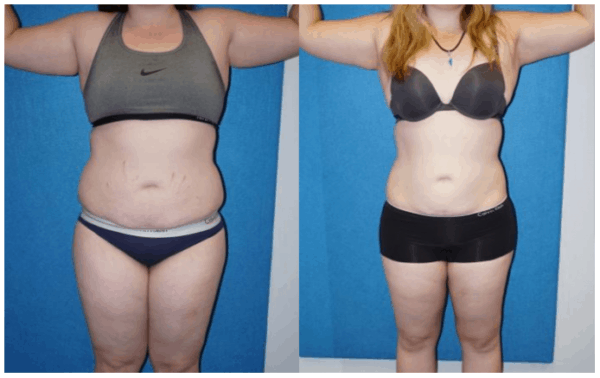 What is Involved with Liposuction?
It is important to be fully evaluated by a surgeon prior to liposuction to assure this procedure is the best treatment option in each patient's case.  If generalized improved contour is desired, then liposuction is typically a great choice.  However, if there is any excess or loose skin, liposuction may not be the ideal treatment option—a typical tummy tuck may need to be discussed.  For the surgical procedure itself, you will be seen by Dr. Coscia once again on the morning of surgery, at which time markings will be placed to define the areas of liposuction and map out the new contour.  In the operating room, very small incisions will be placed in inconspicuous locations.  Through these very small incisions, fluid called "tumescent" solution will be injected.  After the fluid is injected, hollow cannulas that are attached to a suction machine will be put into place and used to remove fat and improve contour in a very controlled manner.
What Procedures Can be Combined with Liposuction?
Liposuction can be the primary procedure performed in a particular patient's case.  However, many times it is actually added on to other procedures to improve the result of that particular procedure even further.
What Type of Anesthesia is Used for this Procedure?
Typically liposuction is performed under general anesthesia.  The patient will tolerate the procedure under this form of anesthesia much better.  If the liposuction is being used to treat a very small area such as underneath the chin/neck region, this can oftentimes be performed under simple IV sedation.
What Should I Expect After Surgery?
After surgery you will be placed in a compression garment to cover the areas treated by liposuction.  This helps to decrease swelling and aid in improving contour throughout the healing process.  You will wear this compression garment for approximately six weeks.  Depending upon the degree of liposuction performed, most patients will take about a week off from work, but this obviously can vary.  Activity restrictions are actually fairly minimal after liposuction and can be resumed as tolerated by each individual patient.
Learn More About Liposuction
If you are considering liposuction and want to learn if it's the right procedure for you, please call and schedule a consultation with Dr. Coscia.  He will be glad to answer any questions you may have, as well as perform a physical exam and discuss ideal treatment in your case.
Dr. Coscia's practice also serves the Roseville, Rocklin, and Loomis areas. Please fill out the form on this page to request a consultation or call our call his Granite Bay 916-773-5559 or Sacramento 916-929-1833 locations to request a consultation today.
*Individual results may vary. Please note that proper diet and exercise are needed to maintain results.