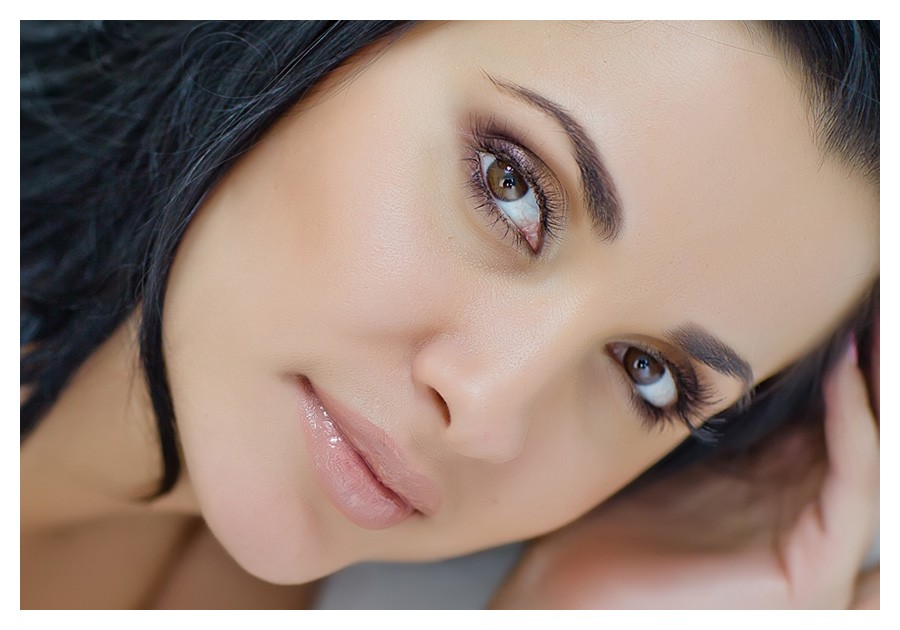 Brow Lift
for Sacramento, Granite Bay, & Coeur d'Alene
As we age, the effects of daily facial expressions engaging our foreheads plus excessive sun damage tend to promote a tired and heavy appearance above our eyes. Similar forces that cause the appearance of facial aging throughout the rest of the face are also involved in the forehead and brow region. Repetitive facial animation plus sun exposure tend to cause the typical lines and wrinkles seen horizontally across the forehead, as well as the horizontal and vertical lines seen around the region above the nose between the eyebrows, known as the glabellar region.
Laxity in the deeper muscular layer and the skin and soft tissue itself causes the brows to droop. This is commonly referred to as "brow ptosis." In a female patient, the brows should sit at a level above the bony supraorbital rim above the eye. In men, the brow should sit right along the margin of this bony supraorbital rim. When the brows sit below this position, it tends to give a heavy and tired appearance to the eyes. It also creates more redundant skin of the upper lid, further contributing to the tired appearance in the periorbital area.
Home » Brow Lift
Benefits of Brow Lift
Brow lift is a popular surgery because it can achieve the following changes: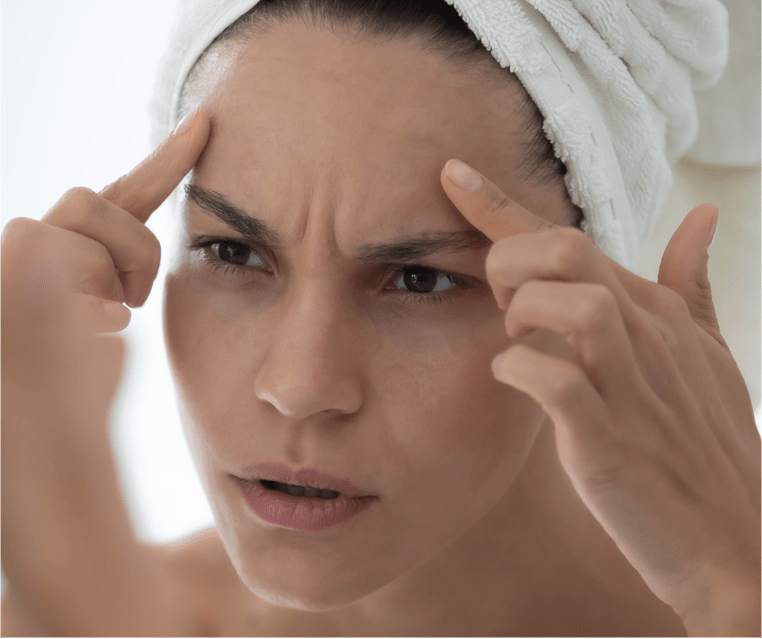 Removing loose skin from the forehead
Minimizing lines, wrinkles and creases that develop on the forehead
Restoring a youthful arch to the eyebrows
Helping the upper eyelid to open more fully by removing brow skin that weighs it down
Creating a face that looks happier and better rested
Candidates for Brow Lift
Ideal candidates for brow lift are non-smokers who are in good health and would like to improve the appearance of their forehead. They should set reasonable expectations for what brow lift can accomplish — brow lift is more successful at making the forehead appear five to 10 years younger rather than like a different forehead altogether.
Brow Lift Procedure Types
There are several different surgical techniques used to perform a brow lift. After consultation, Dr. Coscia will recommend the procedure that will give you the best result.
Endoscopic Brow lift or "Endo-Brow Lift"
This technique is utilized quite often, because it allows for minimal incisions. Three small incisions are made approximately a centimeter in length behind the hairline. Through these incisions, an endoscopic camera is inserted, and then the brow can be elevated down to the bony supraorbital rim. Next, the muscles are treated in the glabellar region by removing a portion of them, providing "long lasting Botox" to that region and allowing the glabellar region to have a smoother appearance. Finally, the brows themselves are re-suspended to position them in a more anatomically correct position.
Coronal Brow Lift
This is a traditional large incision brow lift that is made approximately 5 cm behind the hairline and extends across the full length of the scalp. Similar undermining of the forehead flap is performed. While this procedure does have the drawback of a larger scar, it is also better at treating patients with very significant horizontal forehead lines and wrinkles. This procedure would be contraindicated in a patient with a fairly tall forehead, as it will tend to give the appearance of a longer forehead length.
Pretrichial Brow Lift
This procedure is very similar to the coronal brow lift. However, the incision falls in a zigzag pattern right along the forehead hairline itself. This procedure produces very good results for patients with a long forehead length.
Temporal Brow lift
This addition to the brow lift involves the same temporal hair incision with a standard facelift that is behind the hairline itself and allows for elevation of the lateral brow.
Brow Lift Costs
The cost of brow lift depends on the severity of the forehead laxness and the type of technique (endoscopic, coronal, pretrichial or temporal brow lift) utilized to achieve the patient's desired results. During a consultation, Dr. Coscia can discuss the full cost breakdown so the patient can make an informed decision about having the surgery.
Since brow lift is an elective procedure, it is not covered by most health insurance plans. However, financing options are available through M-Lend Financial Services and CareCredit to allow patients to make payments toward the full cost of the procedure.
Recovery from Brow Lift
After a brow lift, you can expect a typical head dressing, as with other facial procedures that will be in place for two or three days. It will then be removed and no additional dressings will be needed. You can expect a degree of swelling and bruising that is typically patient-dependent that will last one to two weeks. Patients often do get bruising around the eyes with this procedure.
Brow Lift FAQ
What Procedures Can Be Combined With the Brow Lift?
As with other facial rejuvenation procedures, a traditional facelift, upper and lower blepharoplasties, fat injections to the face, and laser resurfacing of the face can be combined with the brow lift to achieve an overall refreshed and rejuvenated appearance.
What Type of Anesthesia is Used?
With brow lift, as with other facial rejuvenation procedures, IV sedation with the injection of local anesthetic is used. This allows for a very comfortable setting for the patient but also minimizes any risks that could be associated with general anesthesia.
What is the ideal age to have brow lift surgery?
While most patients seek brow lift between the ages of 40 and 60, Dr. Coscia does not believe there is one "right time" to have brow lift surgery. Younger and older patients have seen transformative results with this procedure. If you have visible signs of aging on your forehead and can benefit from the procedure, it may be worth discussing brow lift with Dr. Coscia.
How long do brow lift results last?
This timeframe differs from patient to patient and depends on the type of brow lift that has been performed. No brow lift results are permanent: aging and gravity eventually cause the brow skin to sag again. However, some patients can enjoy their results for more than 10 years, particularly if they take good care of their skin by moisturizing, maintaining a healthy weight, avoiding sun exposure and covering up with a hat or sunscreen.
What kind of scarring can I expect from brow lift?
Scarring is an inevitable part of any surgery. Dr. Coscia uses refined incision techniques so that scars heal well and hide easily along and inside the hairline. Over time, many patients notice that their scars have faded to the extent that they are no longer visible.
Are there non-surgical alternatives to brow lift?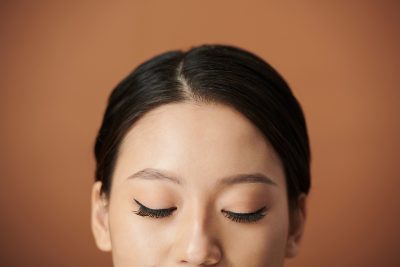 If you want to give your forehead and eyebrows a lifting effect without undergoing surgery, then you may be a good candidate for a treatment like Botox. Strategic injections can raise the arch of the eyebrow and minimize the appearance of forehead lines by temporarily freezing the muscles. To maintain the results, you need to come in for additional Botox injections a few times per year.
For longer-lasting results, you may still want to give endoscopic brow lift consideration even if you would not normally seek surgery. Dr. Coscia considers it one of the gentlest and safest surgeries he performs, with a quicker recovery time than comparable procedures.
Learn More About Forehead Lift
If your primary or one of your concerns involves the appearance of your brow, we encourage you to schedule a consultation with Dr. Coscia. At that consultation, he will listen to and address your specific concerns and then discuss the best treatment options for you.
Dr. Coscia's practices also serve Coeur d'Alene, ID, and the Rocklin and Loomis areas. Please fill out the form on this page to request a consultation or call our call his Granite Bay 916-773-5559 or Sacramento 916-929-1833 locations to request a consultation today.
*Individual results may vary