Also Offering Abdominoplasty in Granite Bay & Roseville
---
Toning and shaping the midsection often pose a great challenge for many people. Previous pregnancies and weight loss can create a significant hurdle to overcome even with good diet and exercise in some people. The tummy tuck or abdominoplasty is a great procedure designed at restoring an aesthetic shape to the abdomen and trunk.
What is Involved with a Tummy Tuck?
The abdominoplasty is a frequently performed procedure in cosmetic plastic surgery. Its goal is to remove excess skin and fat around the lower abdomen with the addition of tightening the abdominal muscles to reshape a person's core. The procedure itself involves a horizontal incision along the lower abdomen below the bikini line. This allows removal of excess skin and lower abdominal fat that is often persistent after significant weight loss or pregnancy despite regular diet and exercise. Next, the abdominal muscles are tightened. Particularly after pregnancy when the entire abdominal wall itself is stretched due to growth of the baby, the connections down the midline of the abdomen are unable to be fully restored. Therefore, a key component of the abdominoplasty is realigning the central abdominal muscles to restore a flatter abdomen as well as enhance a feminine hourglass shape. In addition, liposuction is performed along the flanks and lower back as part of a typical abdominoplasty in order to further enhance an aesthetic feminine shape. It is very rare to find a patient that is dissatisfied with a well-performed abdominoplasty due to the significant transformation that it provides.
What is a Mini-Abdominoplasty?
Variations to the full abdominoplasty do exist. A "mini-abdominoplasty" or a "mini-tummy tuck" typically involves a slightly shorter lower abdominal incision with a smaller amount of skin and fatty tissue removed and only tightening of the lower abdominal muscles. This would be appropriate in a patient with very little lower abdominal skin and fat but desires a tighter lower abdomen with improved shape. A "modified abdominoplasty" involves tightening of the skin and possibly the abdominal musculature without interfering with the belly button.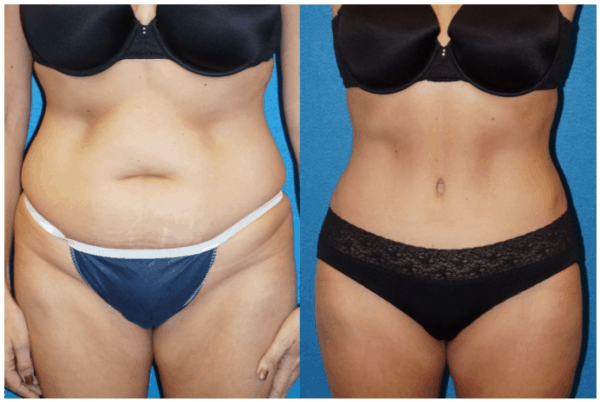 What Procedures Can be Combined with Abdominoplasty?
Oftentimes additional liposuction of the upper back, arms, and thighs can be added to the tummy tuck procedure if desired. Other patients may prefer some form of breast surgery at the same time, often referred to as a "mommy makeover." This may involve a breast lift or a breast augmentation.
Is an Abdominoplasty Appropriate for Men?
Absolutely. Most men who seek information about abdominoplasty have had significant weight loss. The procedure will allow removal of excess lower abdominal skin and tightening of the abdominal muscles that will allow more effective abdominal workouts in the gym. Similarly, the incision is kept very low below the underwear line and liposuction is often combined with the procedure as well.
What Type of Anesthesia is Used for this Procedure?
General anesthesia is essentially always used for abdominoplasty. This allows complete comfort for the patient and allows the procedure to be performed very effectively.
What Should I Expect After Tummy Tuck Surgery?
The surgery itself does take a few hours. You will then be discharged home with an abdominal binder which reinforces the muscle repair that has been performed. You will wear this binder and/or a compression garment for approximately six weeks in order to allow for decreased swelling and improved shape and contour after liposuction. During surgery, a local anesthetic will be injected into your abdominal muscles. This exciting new anesthetic will numb your abdomen for approximately three days, allowing your pain level to be decreased substantially during the initial healing phase. This will also allow for better mobility after surgery. Dr. Coscia will also discuss activity restrictions during your visit. You will need to refrain from any core exercise for approximately six weeks in order to allow the muscle tightening and repair to heal appropriately.
Learn More About Abdominoplasty
If you are interested in discussing possible abdominoplasty, please call The Plastic Surgery Center and ask for a consultation and evaluation with Dr. Coscia. He will discuss the full procedure with you, and you will have an opportunity to view the before and after photos for abdominoplasty on this website.
Dr. Coscia's practice also serves the Roseville, Rocklin, and Loomis areas. Please fill out the form on this page to request a consultation or call our call his Granite Bay 916-773-5559 or Sacramento 916-929-1833 locations to request a consultation today. 
*Individual results may vary