Searching for smooth, vibrant-looking skin – but feel let down by that arsenal of beauty products in your bathroom cabinet?
Get ready to shake off your beauty blues, because we've got the inside scoop on the causes of uneven skin texture, as well as the best treatment options to get rid of it!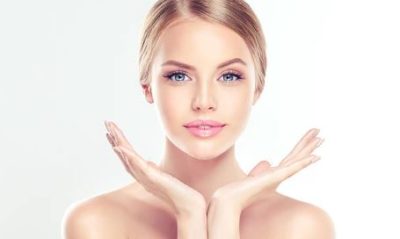 What is the Cause of Uneven Skin Texture?
There are plenty of causes for uneven skin texture; however, there are some more likely culprits than others. Let's take a look at some of the biggest causes of uneven skin texture:
Sun damage. If you worshipped the sun a little too much in your youth, your uneven skin texture might be sun damage coming back to haunt you. Hyperpigmentation, scaly skin, and rough patches are all classic symptoms of sun damage. These texture issues can be difficult to treat with just skin creams and serums.
Environmental damage. Exposure to pollution, wind, and free radicals can all add up to uneven skin texture. If you work in a city, spend time in traffic, or work in an environment with enthusiastic cooling or heating systems, your skin is likely exposed to noticeable environmental damage.
Hormones.

Yup, you can blame those pesky hormones for uneven skin texture, too. Hormonal shifts – especially during puberty, pregnancy, and menopause – can suddenly cause uneven skin texture, including hyperpigmentation and dry skin.
Genetics. Sometimes uneven skin texture can happen as a result of your genetic makeup, but good news – you don't have to resign yourself to dealing with it for life. 
Now that you know the causes of uneven skin texture, it's time to take a closer look at the treatments that can get rid of it – once and for all!
Skin Restoration Consultations Available
How Can I Get Rid of Uneven Skin Texture?
When it comes to getting rid of uneven skin texture, forget the over-the-counter creams and serums – you'll often need medical-grade facial treatments to unlock that smooth skin you've been searching for.
Board-certified plastic surgeon Dr. Rudy Coscia is pleased to offer a wide variety of skin rejuvenation treatment options at his Granite Bay, CA practice. Each treatment is designed to unleash your most glowing skin ever, even if you've been dealing with uneven skin texture for years.
[/fusion_text][fusion_text]
Some of Dr. Coscia's skin texture treatments include:
Ablative and non-ablative options

New M22 Laser platform with IPL and Resurfx

Lumenis Acupulse Fractional CO2 Laser

Acne Scar Resurfacing

Microneedling with Growth Factor or Hyaluronic Acid
You can learn more about Dr. Rudy Coscia's skin restoration procedures here.
Take the Next Step
Ready to tackle your uneven skin texture once and for all? Schedule a consultation with board-certified plastic surgeon Dr. Rudy Coscia at his new plastic surgery practice in Granite Bay, CA. (916) 773-5559
[/fusion_text][/fusion_builder_column][/fusion_builder_row][/fusion_builder_container]