If you've recently lost a large amount of weight, congratulations! It's no small feat to lose weight, so you should give yourself a major pat on the back.
However, with significant weight loss comes the possibility for excess skin. This usually happens when the skin doesn't "snap back" or can't quite keep up with the rate of weight loss. Diet and exercise can't target this sagging skin – especially around the stomach – which is why a tummy tuck is one of the best options for getting rid of excess skin after weight loss.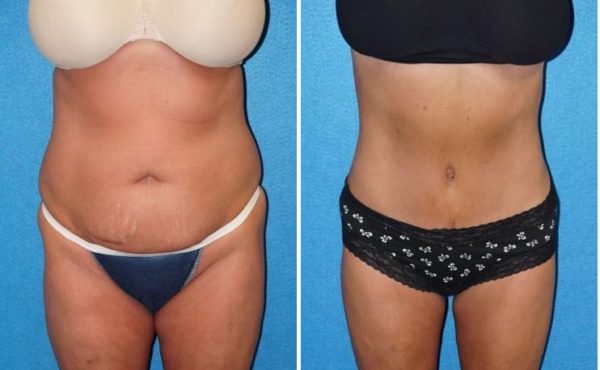 What is a Tummy Tuck?
A tummy tuck – also known as an abdominoplasty – is a surgical procedure designed to accomplish two goals:
Repair abdominal walls that may have been damaged by weight fluctuations; and
Removing excess skin around the stomach and waistline.
During the tummy tuck procedure, the plastic surgeon repositions the abdominal muscles so that they lay flat. After this step, your surgeon will remove excess and sagging stomach skin to help show off your new results.
Tummy Tuck Consultations Available
What is the Recovery Time for a Tummy Tuck?

If you're interested in undergoing a tummy tuck to get rid of excess skin after weight loss, here's what you can expect from the recovery process:
You'll need to take at least one week off from work, as the tummy tuck is a major abdominoplasty procedure. If you work in a more manual job role, you may need to expand this time off to two weeks.
During the first four weeks after your tummy tuck procedure, your plastic surgeon will advise you to avoid strenuous exercise. You'll be able to take gentle walks about two weeks after your procedure, which can help get the blood flowing and reduce swelling. Your plastic surgeon will give you the green light when you're ready for exercise again.
You'll see results right away, as your excess skin will be gone after the surgery. However, your final results won't be visible until about eight to twelve weeks after the procedure, as this is usually how long it takes for most swelling and bruising to dissipate.
Take the Next Step
Want to learn more about how a tummy tuck can help get rid of excess skin after weight loss? Schedule a consultation with board-certified plastic surgeon Dr. Rudy Coscia at his new plastic surgery practice in Granite Bay, CA.