Whether you've just lost a lot of weight or you've had children, you know one thing for certain: You're ready for perkier, more youthful-looking breasts.
While a breast lift is an excellent option for patients who are solely focused on addressing drooping issues, the truth is many patients often wonder if it's possible to correct sagging and increase bust size.
So when it comes down to it, can you get implants with your breast lift? And if so, what are the signs you should add implants to your breast lift surgery?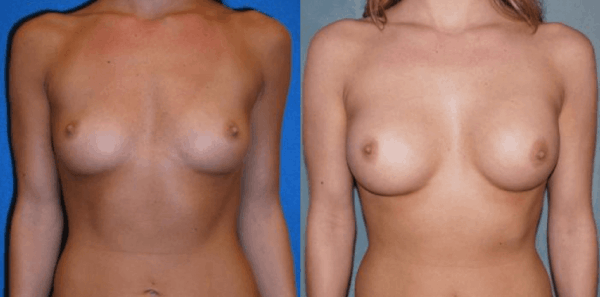 * Individuals Results May Vary.
Adding Implants to Your Breast Lift
The answer is yes, you can absolutely add implants to your breast lift procedure!
Combining a breast lift with breast augmentation is a lot more common than many patients realize. There's no special procedure or extra surgery required; in fact, the implants can be added right before the breast lift takes place, thus ensuring that the final results look completely natural and proportionate to the new breast shape.
Breast Augmentation Consultations Available
Signs You Should Add Implants to Your Breast Lift
While the decision to undergo surgery is highly personal for every woman, these are the signs you may want to add implants to your breast lift surgery:
You've always wanted a bigger bust size.

You're worried about losing your size after your breast lift surgery, as the procedure can make your breasts look slightly smaller.

You've considered breast augmentation surgery in the past.

You're done growing your family, and it's been at least six months since you've breastfed your last child.
During the consultation, your plastic surgeon will answer any questions you might have about the surgery, as well as determine if you're a good candidate to add breast implants to your breast lift.
*"Dr. Coscia is absolutely amazing. I'm so happy about my results from breast augmentation. He's friendly, professional, and gets his job done quickly and efficiently. If I decide to go back under, I'll be seeing him again for sure. Thanks, Dr. Coscia!"
Take the Next Step
Want to see if you can add implants to your breast lift procedure? Schedule a consultation with board-certified plastic surgeon Dr. Rudy Coscia at his new plastic surgery practice in Granite Bay, CA.