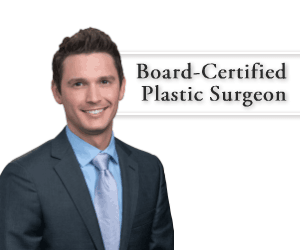 When it comes to taking care of yourself, you're not one to sacrifice on quality.  You make sure you eat healthy, clean foods.  You make sure that your beauty and healthcare products are free from any artificial ingredients.  You even carefully research where you're going to spend your next evening out…
So why wouldn't you research your plastic surgeon?
Your body deserves the best treatment possible – that's why it's important to choose a plastic surgeon who is board certified.  While state laws allow any licensed physician to call himself or herself a plastic surgeon or cosmetic surgeon, only the best of the best are board certified by the American Board of Plastic Surgery.
This board sets rigorous standards for plastic surgeons including patient safety and satisfaction, education and training, and commitment to excellence.  With so many requirements and standards set forth by the board it's no wonder that the plastic surgeons who are certified represent the best in their field.
Other benefits to choosing a board certified plastic surgeon include the following:
Your plastic surgeon will have plenty of experience and know-how with your particular procedure;
You can expect exceptional care and attention throughout the course of your procedure and recovery;
Your plastic surgeon will have the aesthetic judgment and technical skills needed to produce the best results possible; and
Your surgeon will be committed to your health and absolute safety.
When it comes to your body, don't sacrifice quality and experience for a too-good-to-be-true deal.  Commit to working with a board certified plastic surgeon – your body will thank you for it!
Want to work with an experienced, dedicated professional in the Sacramento area?  Schedule a consultation with board-certified plastic surgeon Dr. Rudy Coscia at one of his three practices in Sacramento, Granite Bay and Coeur d'Alene.  With years of training and professional experience, Dr. Coscia can help you achieve your optimal results in a variety of plastic surgery procedures. Call Sacramento 916-929-1833 & Granite Bay 916-773-5559 today!