Dreaming of glowing skin that looks like it belongs on its own magazine cover?
Then it's time to introduce yourself to the HydraFacial, an advanced facial treatment that uses multiple steps to help cleanse, purify, exfoliate, and hydrate your facial skin. With just a single HydraFacial treatment, you'll notice that your skin looks smoother, feels softer, and seems to glow from within. Best of all, regular HydraFacial treatments can reduce the appearance of fine lines and wrinkles, leaving you with a much younger-looking complexion.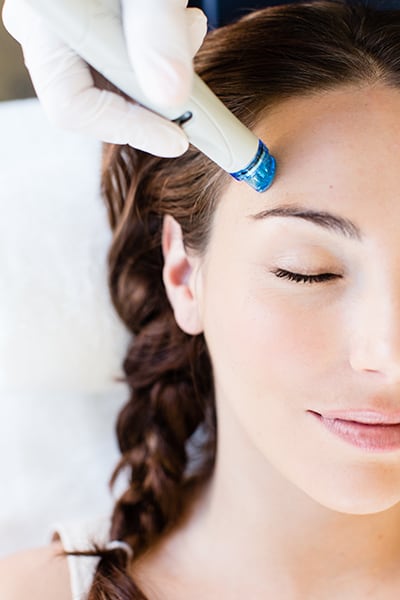 Here's how it works: the HydraFacial is performed in multiple steps, each of which is designed to help produce your best skin ever. The steps aim to:
Cleanse and prepare the skin for the treatment. During this first stage of the treatment, your skin will be totally cleaned, which ensures that the serums applied to the skin during later stages will fully sink into your dermis.
Exfoliate the skin's surface, which helps remove dead skin cells and other impurities that may be clogging your pores. The exfoliation process helps take care of surface issues while preparing the skin for the next stage of the HydraFacial process.
Vacuum out deep-rooted impurities, which can help tackle the appearance of blackheads and clogged pores. This part of the HydraFacial process can help make dull skin look completely brand-new, precisely because it's removing impurities and pollutants that contribute to creating aging and blemished skin.
Hydrate the skin with an advanced cocktail of serums and antioxidants. This final stage of the HydraFacial helps produce the glowing, healthy-looking skin that has made the treatment so popular!
Want to experience the HydraFacial treatment for yourself? Want to see if you're a candidate?
Take the Next Step
Schedule a consultation with board certified plastic surgeon Dr. Rudy Coscia at his new plastic surgery practice in Granite Bay, CA. Dr. Coscia's practices also serve Coeur d'Alene and the Sacramento metro area. Granite Bay (916) 773-5559 and Sacramento (916) 929-1833