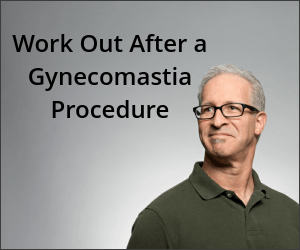 Gynecomastia is a medical condition that causes the enlargement of male breasts (also referred to as "man boobs").  While the medical community agrees that gynecomastia can be caused by genetics, hormonal changes, weight gain, and even some medications, there's no real predicting factor for who is likely to develop male breasts.
For men who suffer from gynecomastia, diet and exercise might not be enough.  For these individuals, gynecomastia surgery is an excellent option to remove fatty breast tissue.
What To Expect From Gynecomastia Surgery
The gynecomastia surgery relies on liposuction to remove the fatty tissue from the chest area; sometimes the procedure involves surgical excision of the breast tissue.  This procedure is generally performed with general anesthesia; it takes about two hours to perform.  Your plastic surgeon will discuss with you the best option for treating your gynecomastia.
Small incisions are typically made around the areola and in the armpit area; these locations minimize the appearance of surgical scars.   A small cannula is fed through the incisions, which allows the surgeon to remove fat deposits. 
When Can You Start Working Out? 
Many men are concerned with how quickly they can go back to working out once they've undergone the procedure.  It's recommended that patients wait four to six weeks before undergoing rigorous physical exercise.  However, patients are always encouraged to be active and walking right after the surgery. 
Gynecomastia Surgery with Dr. Rudy Coscia
To learn if you're an ideal candidate for gynecomastia surgery, schedule a male breast removal consultation with Dr. Rudy Coscia at his Granite Bay practice. His plastic surgery practice also serves the greater Sacramento, CA area. Call Dr. Rudy Coscia at Sacramento 916-929-1833 & Granite Bay 916-773-5559 to today to learn more.