Interested in getting a facelift, but not sure how long your facelift results may last for?
[/fusion_text][fusion_text]
What to Expect from My Facelift Results
Your facelift results are usually visible almost right away, although bruising and swelling may prevent you from seeing final results for about four to six weeks.
Facelift results can be life-changing, especially for patients who have felt self-conscious about the appearance of their skin for a long time. These results include smoother and younger-looking skin, with fewer wrinkles and facial folds, as well as less sagging skin around the jowls.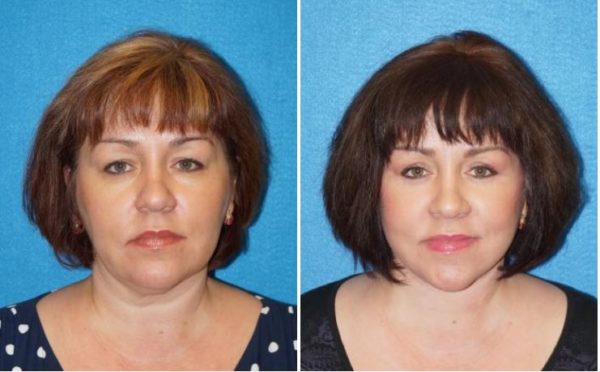 * Individuals Results May Vary.
How Long Will My Facelift Results Last?
Good news: Your facelift results can last for up to ten years. 
The reason why facelifts last so long is that the procedure works to repair sagging facial muscles and put them back in their originally youthful position. Once muscles have been repositioned, they stay there for several years, until the aging process and gravity starts to tug the muscles back down again.
While every patient ages differently, it usually takes about five to ten years for facial muscles to start sagging again, meaning you can enjoy results for a full decade before needing any maintenance.
Facelift Consultations Available
Am I a Good Candidate for a Facelift?
You're a good candidate for a facelift if you're a healthy nonsmoking individual who has realistic expectations for how you'll look after your facelift procedure. Most candidates have sagging skin, especially around the jowls, as well as moderate to severe wrinkles and facial folds. 
If you're not ready for a facelift procedure but still want to treat sagging skin or facial wrinkles, you may be a good candidate for non-surgical facelift solutions, like the Liquid Facelift, Ultherapy skin treatments, and more.
Dr. Rudy Coscia treated me for wounds from an injury. Because of his excellent care I opted for a facelift and eye lid lift. Dr. Coscia is not only technically excellent but a real pleasure to interact with. I am very pleased with my natural looking results.
Take the Next Step
Want to learn more about what you can expect from your facelift results? Schedule a consultation with board-certified plastic surgeon Dr. Rudy Coscia at his new plastic surgery practice in Granite Bay, CA.