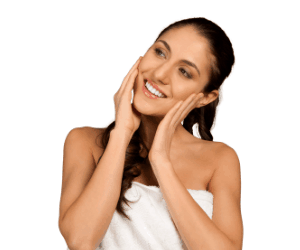 Let's face it – sometimes anti-wrinkle creams and serums just don't cut it.  When you're dealing with moderate to severe wrinkles and sagging skin, you need more help than what over-the-counter creams can offer you.
If the above sounds familiar, you may benefit from a facelift.  A traditional facelift allows you to tackle the most common signs of aging – wrinkles, folds, sagging skin, and drooping eyelids – quickly and with optimal results.  A facelift is performed by a board certified plastic surgeon, who will make small incisions around the hairline and behind the ears to access the facial muscles.  These muscles are then elevated and repositioned for more youthful facial contours.  The plastic surgeon trims off any excess skin remaining after the repositioning.
The benefits of a facelift can be, quite frankly, life-changing.  Not only do patients benefit from tighter, more youthful-looking skin, but they also enjoy brighter, more rested eyes free from drooping undereye bags and eyelids.  Additionally, facelifts can address sagging jowls and loose neck skin.
Yet while the benefits of a facelift are obvious, there's one question that might not be so clear: How long does a facelift last?  And will you have to ever go through the procedure again?
In general, a facelift that's performed by an experienced plastic surgeon can last for a lifetime.  However, as the patient continues to age, the facelift will undoubtedly be impacted by the result of gravity and continuous loss of collagen.  The facelift essentially corrects previous signs of aging, so you won't see as severe results as if you didn't have the facelift.  Most patients that have a facelift in their 50's and 60's are able to see substantial results from the procedure for 10-15 years.  Obviously, aging still occurs but most patients still look improved 10-15 years as compared to their pre-operative pictures.
Additionally, if you smoke, spend time outside without sunscreen, or gain/lose large amounts of weight, your facelift results can be altered.  It's best to commit to a healthy lifestyle before undergoing your facelift so you can continue to enjoy optimal results for life.
To learn more about the facelift procedure, schedule a consultation with board-certified plastic surgeon Dr. Rudy Coscia at one of his three practices in Sacramento, Granite Bay, and Coeur d'Alene.  Dr. Coscia can help you understand what to expect from the procedure, including how you can optimize your lifestyle so you can continue to enjoy your facelift results. Call Dr. Coscia to learn more: Sacramento 916-929-1833 or Granite Bay 916-773-5559.