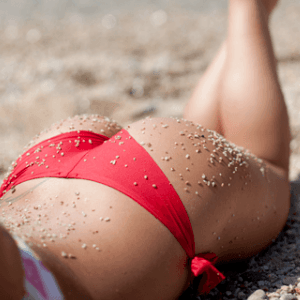 Flip open any magazine or turn on any TV channel, and it's likely you'll hear all about the recent phenomenon of women wanting to enhance the size of their buttocks.  From emphasizing squats at the gym to wearing butt-enhancing shapewear, more people are chasing after dreams of a larger derriere. 
The plastic surgery industry has certainly followed suit – and now, multiple surgeries can help women (and men!) achieve a more ample and lifted buttocks.  With so many procedures out there, how can you be sure which one is right for you?
Let's take a look at the differences between the most common butt enhancement procedures you'll find today:
Brazilian Butt Lift: This increasingly popular procedure takes fat from your own body and injects them into your buttocks for increased shape.  It's no wonder this procedure is so popular – by combining fat reduction with butt enhancements, the Brazilian butt lift has made itself the darling of Hollywood and beyond.
 During the Brazilian butt lift, your plastic surgeon will remove fat from trouble spots on your body (like the stomach, waistline, and thighs), process the fat, and use a syringe to injected it into your butt.  Since the fat is from your own body, there's no chance for rejection – plus, results look and feel natural!
Butt Augmentation: This procedure uses silicone butt implants to achieve a more enhanced look.  During this procedure, your plastic surgeon makes several incisions along the crease of the butt and positions the implants for a natural appearance.  There is scarring and downtime associated with this procedure; additionally, there is also the risk of infection due to the implant.    Butt augmentation is increasingly being pushed aside in favor of Brazilian butt lifts.  Because of the risk of infection, malposition of the implants, and problems with constantly sitting on the implants, Dr. Coscia advises against this type of buttocks augmentation.
Butt Lift: This procedure focuses on repositioning fullness in the buttocks while also lifting loose, sagging skin over the buttocks.  This procedure is ideal in patients who have lost a large amount of weight and now have both the problem of a sagging buttocks and flat buttocks.
Wondering which popular butt procedure is right for you?  Schedule a consultation with board certified plastic surgeon Dr. Rudy Coscia at one of his three practices in Sacramento, Granite Bay, and Coeur d'Alene. Dr. Coscia can help you understand the differences between the three procedures, including how to select the best choice for your desired goals.
Sacramento 916-929-1833 or Granite Bay 916-773-5559.